The Smithsonian isn't just about collecting obscure inventions and Hollywood memorabilia. It has a mission to preserve American history, and as part of that mission it has made April
Jazz Appreciation Month
.
Each April they lead the country in celebrating "America's classic music," and each year they highlight one musician. This year that musician is Dave Brubeck, most famous for the 5/4 instrumental piece "Take Five" from his quartet's 1959 album, "
Time Out
."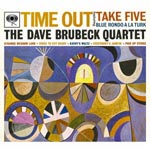 Each piece on the album features unconventional meters, as opposed to the 4/4 meter that is the most common time signature in jazz. The most famous track is in 5/4 time, hence the pun in the title "Take Five." It is one of the few jazz instrumentals to make it as a "crossover" into popular culture.
The Dave Brubeck Quartet
issued several other albums, and
Brubeck
issued some solo albums as well but none ever had the crossover appeal of "Take Five."
Use Ball State Libraries'
Media Finder
for non-classical music to search for jazz in CardCat. You can narrow your search by decade, country or keyword.