Singing and dancing have gone hand-in-hand since prehistoric times, but at no time was the marriage more harmonious than during the heyday of the Hollywood Musical. The stories may have been cheesy but the dancing was spectacular! Check these out from the Educational Resources Counter:
The Busby Berkeley Collection
Busby Berkeley's choreography was some of the most elaborate ever seen. From kaleidoscopic transformations filmed from overhead to gigantic sets and synchronized swimming, his imagination was boundless.
Gold Diggers of 1933
Footlight Parade (1933)
42nd Street (1933)
Dames (1934)
Gold Diggers of 1935
Gold Diggers in Paris (1938)
Varsity Show (1937)

Hollywood Hotel (1937)
Fred Astaire and Ginger Rodgers, with Gloria del Rio as the Brazilian beauty who threatens their relationship.
The Gay Divorcée
(1934)
Fred Astaire and Ginger Rodgers. Oscar-winning song, "The Continental" is a 22-minute production number!
Top Hat
(1935)
Fred Astaire and Ginger Rodgers, with music by Irving Berlin.
The Great Ziegfeld
(1936)
Biopic about the song-and-dance master, Florenz Ziegfeld, with musical numbers that show why he was the master. Be sure to see "A Pretty Girl is Like a Melody," filmed with 180 performers.
Swing Time
(1936)
Silly romance starring Ginger Rogers and Fred Astaire.
The Wizard of Oz
(1939)
The first Hollywood musical many children see.
Holiday Inn
(1942)
A singer and a dancer compete for the love of the same lady, starring Bing Crosby and Fred Astaire. Guess which is the singer and which is the dancer!
Cabin in the Sky
(1943)
Vincente Minelli's story features the Nicholas Brothers, Ethel Waters, Lena Horne, Louis Armstrong, Duke Ellington, and an all-black cast.
Stormy Weather
(1943)
Cab Calloway and the Nicholas Brothers collaborated on one of the most famous dance scenes in history.
The Gang's All Here
(1943)
Busby Berkely choreographed this wartime romance.
Anchors Aweigh
(1945)
Frank Sinatra and Gene Kelly as sailors on shore leave. Special guest appearance by cartoon mouse Jerry, of Tom and Jerry fame.
Easter Parade
(1948)
Judy Garland and Fred Astaire star as dancers in a love triangle.
The Barkleys of Broadway
(1949)
Fred Astaire and Ginger Rodgers as a bickering show biz couple. It was their final film together. Don't miss the "Shoes with Wings" number, in which shoes dance by themselves.
On the Town
(1949)
Frank Sinatra and Gene Kelly as sailors on shore leave. Some ideas are so good they bear repeating! (see Anchors Aweigh, above) Music by Leonard Bernstein.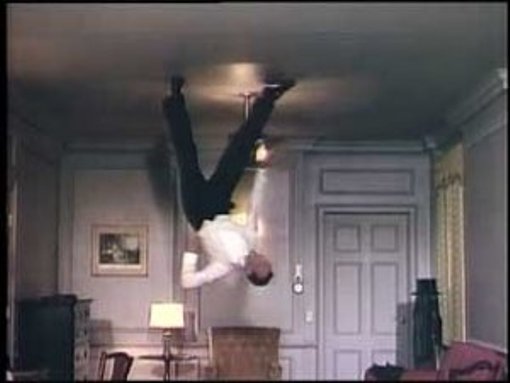 Fred Astaire and Jane Powell as British dancers. Features Astaire's famous "ceiling dance."
An American in Paris
(1951)
Gene Kelly and Leslie Caron dance their way through a complicated love triangle. Gene Kelly was also the choreographer.
Singin' in the Rain
(1952)
Gene Kelly, Donald O'Connor, Debbie Reynolds an Cyd Charisse in a movie about the movies.
The Belle of New York
(1952)
Fred Astaire as a turn-of the-century playboy.